Short Message Service (SMS) hinga kini mungkin masih merupakan layanan terfavorit di kalangan pengguna ponsel. Banyak pula fakta unik ditemukan. Mungkin Anda pernah melihat berita tentang kecelakaan gara-gara ber-SMS ria di tengah jalan. Jadi tidaklah mengejutkan jika sebuah survei terbaru oleh textPlus, menemukan bahwa 65% responden mereka melakukan SMS sambil berjalan. Separuh dari orang tua berusia 35 sampai 44 tahun mengatakan bahwa mereka melakukan SMS sambil berjalan, sementara 73% dari anak-anak berusia 13-17 tahun mengatakan bahwa mereka juga melakukan hal serupa, dengan alasan SMS mereka terlalu penting untuk ditunggu.
Lalu 63% responden textPlus juga mengatakan bahwa SMS sambil berjalan yang mereka lakukan adalah aman. Fakta lain yang ditemukan oleh ilmuwan pun menyebutkan bahwa orang juga cenderung jujur berkata jika di SMS. Hal ini disebabkan, orang punya waktu lebih banyak untuk berpikir. "Hasil awal dari studi kami orang cenderung mengungkap informasi sensitif melalui pesan teks atau SMS dibanding tatap muka secara langsung," kata psikolog kogitif Fred Conrad dari University of Michigan.
Hal ini berlawan dengan anggapan banyak orang bahwa informasi sensitif tak akan diungkap melalui pesan teks karena ini dianggap mampu menciptakan jejak visual yang tertinggal di ponsel. Hasil ini diketahui setelah para ahli ini melakukan studi pada 600 orang pengguna iPhone. Meski SMS cukup menyenangkan untuk dilakukan, tapi nyatanya aktivitas tersebut tak dapat menghalau stres. Hal tersebut berdasarkan studi dari seorang anthropolog bernama Leslie Seltzer dari University of Wisconsin-Madison, melalui metode percakapan melalui ponsel dan dilakukan tatap muka dengan ibu sehingga memicu respon hormonal pada puterinya.
Dari hasil studi tersebut tercatat, kadar kortisol yang umumnya terkait stres mengalami penurunan saat melakukan perkapan melalui ponsel atau langsung. Tak hanya itu, hormon oksitocyn yang terkait rasa nyaman mengalami peningkatan. Dalam studi terbaru, 64 gadis usia 7-12 tahun diminta menyelesaikan soal matematika yang sulit di depan tiga orang dewasa asing. Situasi ini dirancang untuk meningkatnya tingkat stres partisipan.
Kemudian, para ahli memeriksa kadar oksitocyn dan kortisol gadis-gadis ini setelah mereka diberi izin menelepon, bertemu langsung dan SMS ibunya. Ditemukan, gadis-gadis yang memilih mengirim SMS tak mengalami perubahan apa pun. Terlepas dari hal tersebut, ternyata layanan SMS masih merupakan layanan ponsel terfavorit di seluruh dunia. Sebuah survei terbaru menyatakan pengguna ponsel di 21 negara 75% masih sering menggunakan layanan SMS.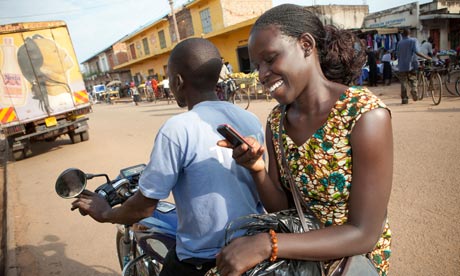 Sebuah studi oleh Pew Research Center Global Attitudes Project mempublikasikan sebuah studi mengenai alat komunikasi digital seperti perangkat mobile dan situs jejaring sosial. Hasil dari studi tersebut mengungkap bahwa mereka yang berusia di bawah 30 yang paling banyak menggunakan fungsi perangkat mobile dan situs jejaring sosial. Hanya ada 23% pengguna yang menggunakan internet. Di studi ini pun terungkap SMS paling populer digunakan di Kenya dan Indonesia. Di Jepang mengirim foto atau video sangat populer dengan angka sebesar 72%, yang kemudian diikuti oleh Meksiko (61%), Spanyol (59%), Mesir (58%).
Selain itu, studi ini juga melihat pada populernya situs jejaring sosial. Situs jejaring sosial paling populer di Israel (53%) dan Amerika Serikat (50%), yang kemudian diikuti oleh Inggris (43%), Rusia (43%) dan Spanyol (50%). Studi ini dilakukan pada 21 Maret hingga 15 Mei, mensurvei antara 700 hingga 4.029 pengguna mobile phone di tiap negara, melalui telepon. Negara-negara yang disurvei antara lain adalah AS, Inggris, Perancis, Jerman, Spanyol, Lithuania, Polandia, Rusia, Ukraina, Turki, Mesir, Yordania, Lebanon, Israel, China, Indonesia, Jepang, Pakistan, Meksiko dan Kenya. Namun ke depannya apakah layanan ini bakal terus menjadi favorit, mengingat pertumbuhan layanan data juga terus menguat.